Patch 9.1.5 shakes up the level 45 talents with some changes to Divine Star and Halo . It also opens up the ability to freely swap Covenant, and introduces Legion Timewalking with Mythic+ & the Mage Tower minigame.
This page is intended to be a bit of a quick-reference to help answer some of the easier questions for this patch, as well as point you in the right direction for some of the common questions. As always, if you have any Holy Priest related questions please visit us in #holy on the Warcraft Priests Discord and we'll be more than happy to help you out!
Build Changes
Apart from the above discussion around the level 45 talents and covenants below, the rest remains the same as 9.1.
Tuning Changes​
The big change this patch is to how Divine Star and Halo work, as well as some changes in their damage and healing values.
Below is a view of the Spellpower Percent (SP%) in healing you would expect from a cast in 9.1 and then in 9.1.5. As you can see, the healing done from new Halo surpases old Halo at 9 targets, Divine Star at 6 targets.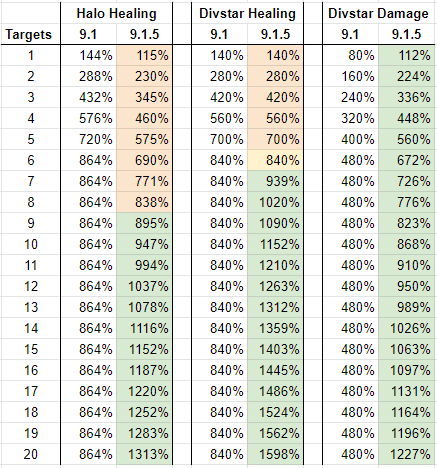 So should I still be using Benediction? This is a tough question to give a definitive answer to, as there are a number of variables most people don't consider immediately. These include:
The opportunity cost of casting Divine Star 3-4 times a minute, or Halo once a minute
Holy Word cooldown reduction (CDR)
Mana costs of the talents, fillers and holy words
Target caps on spells that hit pets & guardians
Overheal of, well, everything
Actual healing style required for a specific encounter
Despite all this, it can still be really close. Benediction is still the easiest passive healing benefit, requiring no change in playstyle or specific positioning concerns. Find a good opportunity to use Halo ever 40-60 seconds, or Divine Star at least 3 times a minute? Then they're both really good options for on-demand healing. An example of this is during the intermission on Painsmith where Divine Star works well with the group stacked up and there is heavy movement and steady constant requirements.
As for damage, Divine Star damage was just increased across the board making it a really high priority spell to press now, even single target. If you're trying to maximise your damage (Mythic+) only Holy Fire should be pressed if Divine Star is off cooldown in your regular rotation. During execute Shadow Word: Death is slightly more damage than Divine Star as well.
There was also an increase to the Festering Transfusion conduit. Worth using but not over Resonant Words.
Changing Covenants​
As of 9.1.5 you can now freely change covenants without needing to repair your relationship with them so long as you already have one covenant at 80 renown on any character. Talk to the appropriate covenant emissary (Polemarch Adrestes, Secutor Mevix, Lady Moonberry, General Draven) in The Enclave in Oribos (the part where you did most of the story quests, where Bolvar and Tal-Inara chill out).
Raid Considerations​
Q: Someone is telling me I must go X covenant now for Raid, is this true?
A: tl;dr - Same as previously, Holy Priest covenant choice is fairly low impact. Choose the one you prefer, consider swapping only if a troublesome progression boss requires something specific.
Since the start of Shadowlands we have preached pretty heavily that the covenant choice you make as a Holy Priest has little bearing on your overall performance. This is because comparatively, the benefits from the abilities and soulbinds don't differ enough to present a clear frontrunner. That said, as always there is some preference depending on your priorities and the content you do. The guides cover this best but here's a quick summary:
Night Fae

- Lots of benefit though most of it won't show on the meters. Good DR external, lots of mana back & CDR for someone's major CD . Soulshape is also amazing if you're fantastic at being out of position like me!

Kyrian

- Boon can be difficult to time well, but on some encounters can provide a decent healing bonus while contributing to extra damage.

Necrolord

- A reasonably easy to use healing and damage button with a very strong personal.

Venthyr

- Rather low impact ability with a budget soulshape to assist with movement.
Q: This is all well and good but you can't have chosen all 4 covenants at once, which will you choose?
A: I have played all 4 covenants at some level and ended up settling on Night Fae during late Alpha, primarily because of Soulshape. I keep coming back to it, playing without it just doesn't seem right. Having the bonus movement and a blink on-demand feels really good to use, and Fae Guardians is so versatile that despite it not coming up on the meters to me personally, has a lot of interesting usage cases. All 3 Faeries contribute if used well, granted that can be difficult in all situations. Now I can swap, I will very likely stay Night Fae for raid.
Mythic+ Considerations​
Q: Someone is telling me I must go X covenant now for Mythic+, is this true?
A: tl;dr - Play whatever you like, but you're a good option to covenant swap if your group needs a dungeon covenant bonus.
Points to consider when being asked/forced/coerced/begged to swap covenant for Mythic+:
Healers generally "suffer" the least from changing covenant.
Healing requirements in most pulls aren't very high, with most group-wide damage being avoidable when the group does mechanics properly.
Ensuring your group has someone of the covenant relating to the dungeon you're doing is beneficial to timing it.
Holy Priest has no specific reason to be any specific covenant in Mythic+, that said;
So if you find your group is lacking a specific covenant and you're worried about timing it or pushing keys, feel free to swap if you like. Grab the level 40 renown token, throw in Resonant Words, Lasting Spirit and Translucent Image and you're most of the way there. Regardless of covenant, or even soulbind, your healing output won't be affected dramatically and you'll be helping your group out if they're lacking your dungeon's covenant bonuses.
Legion Timewalking​
Part of 9.1.5 introduces a couple of features from Legion, Legion Mythic+ Timewalking and the Mage Tower Timewalking (?).
Legion Mythic+​
At the risk of forgetting to update this once the content is actually released and we have more proper information, here is what we know so far:
First event is 2 weeks long, the rest are 1 week long
You can obtain a timewalking keystone from the keystone guy (Ta'hsup) near the vault in Oribos
The Mythic+ dungeons available are the ones on the Legion dungeon rotation

Black Rook Hold
Court of Stars
Darkheart Thicket
Eye of Azshara
Neltharion's Lair
Vault of the Wardens

This is primarily significant because versions of certain Legion items will now be available at the same ilvl as similar level Shadowlands Mythic+ dungeons - providing access to ilvl 236 gear upgradeable to ilvl 246
There's a new affix Infernal at keystones level 10+
Mage Tower​
At the risk of forgetting to update this once the content is actually released and we have more proper information, here is what we know so far:
It's essentially the same challenge as we saw in legion
Various items work inside that also work in timewalking
Not a lot of information, but I imagine in the first few days its out there will be a myriad of guides, videos and posts made about it.
See any good ones? Let me know on discord and I'll add it to the guides page.
Patch 9.1.5 Primer​
Most of these are just a summary from news posts made by Icy Veins and Wowhead.
Freely swap covenant - You can now swap covenant freely without needing to repair your relationship with them. Talk to the appropriate covenant emissary (

Polemarch Adrestes

,

Secutor Mevix

,

Lady Moonberry

,

General Draven

) in The Enclave in Oribos (the part where you did most of the story quests, where Bolvar and Tal-Inara chill out).
Level 40 renown catchup (source) Swapped covenant recently? Once any character reaches 80 on any covenant, you can buy Broker Mark of Distinction from Au'Dara in Oribos (59.6, 71.0) which increases your renown to 40. This is BoA and you can send it around to alts, or use them when you change covenants.
Teleport to Sanctum of Domination (source) You can now take the Animaflow Teleporter to Desmotaeron which is right by the raid entrance.
Warlock Gateway Control Shard (source) Acquirer Ta'gosh (61.8, 71.7) in Oribos will sell the Gateway Control Shard. This shard activates a nearby warlock portal making it significantly easier to take the portal without needing to use complicated macros/keybinds.
2 Minute Cooldowns Reset - Previously only 3 minute or higher cooldowns reset when combat ends with a raid encounter. Now it's been reduced to 2-minutes so most CDs 2 minutes or higher should now be reset at the end of combat with a raid encounter.
Skip Maw Introduction (source) You can now skip that pesky maw intro you've probably already done half a dozen times on alts.
---
You can follow me on twitter at @MechPriest and support me on Patreon.